Binance has launched a stock token to trade Tesla.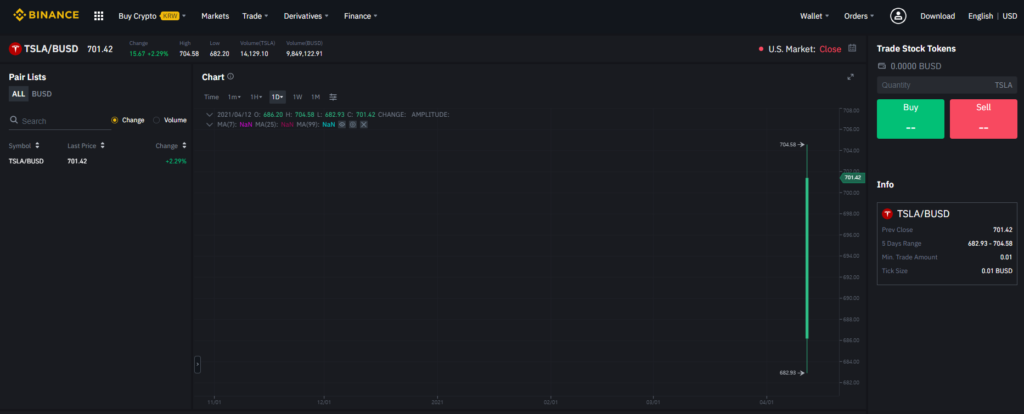 Differentiating from traditional stocks,'stock tokens' can be split into smaller and cheaper units, which means that more users can benefit from the capital return on the stock.
According to Cointelegraph, a cryptocurrency media outlet on the 12th, the cryptocurrency exchange Binance launched a stock token that allows a wider public to earn capital returns on stocks (including potential dividends) without having to purchase the entire stock. do.
The first publicly traded stock in the form of Binance stock tokens will be Tesla, which is currently at around $700. Rather than purchasing the whole in the traditional way, which requires storage of a physical shared certificate, you only need to buy a hundredth of the Tesla shares represented by digital tokens.
"Each digital token represents a share of the stock and is fully backed by a deposit portfolio of underlying securities representing the issued token. Users will be able to trade fractional tokens."
Therefore, one hundredth of the stock tokens represent the same amount of Tesla stock, and the stock price will be fixed in US dollars and settled in Binance USD (BUSD), a stable coin issued by Paxos Trust Company. However, stock tokens cannot be redeemed for stocks.
Binance CEO Zhang Feng Zhao believes that digital stock tokens will serve as a bridge between traditional and crypto markets and provide greater access to the stock market, creating a'more inclusive financial future'.