Ripple is in the lead, leading the weekend bull market and is in a legal win.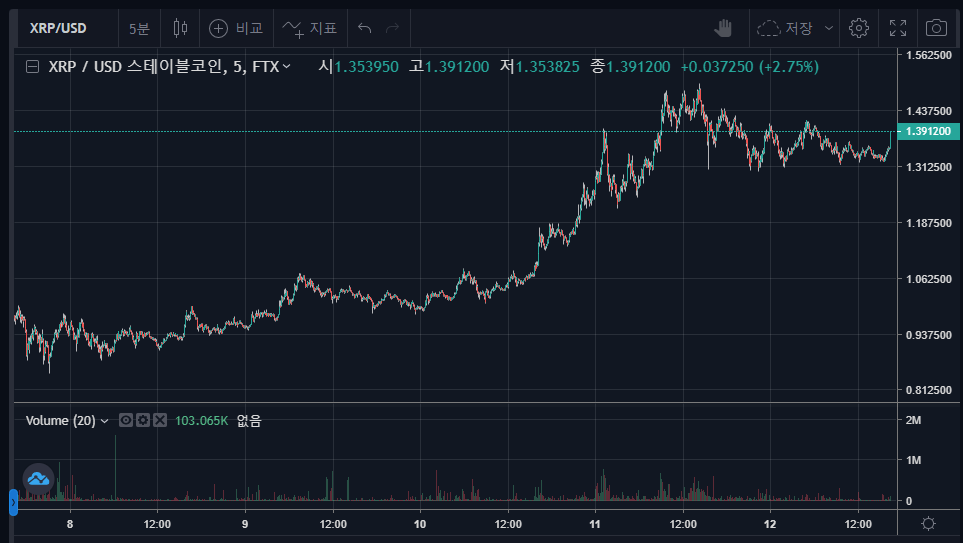 Ripple has successfully confronted the SEC, and XRP has been explosively popular throughout the weekend.
According to Cointelegraph, a cryptocurrency low-text medium on the 10th (local time), amid the weekend bull market of various cryptocurrencies, Ripple's XRP is streaking up to 30% a year thanks to successive court victories and listing on some exchanges. It is running at the lead.
On this day, Bitcoin and Ethereum rose only 2.7% and 3.4%, respectively, while XRP rose to 1.36 dollars and then down to 1.32 dollars, which was the market price at the time of issuance. As of the 7th, it rose 111%, and this year alone, it is showing a tremendous increase of 544%.
Thanks to this situation, XRP re-entered the top 10 cryptocurrencies based on market capitalization, ranking 4th after BTC, ETH, and BNB.
This rally is deeply related to the Securities and Exchange Commission's'lawsuit' claiming that XRP's $1.3 billion ICO (initial coin offering) was a'unregistered securities public offering'. In response to this news, multiple exchanges have delisted, and XRP has lost its place, which was the third largest currency by market capitalization, and fell to the top 10.
However, the issue of XRP did not stop at the SEC. In March, Ripple CEO Brad Garlinghouse announced that it would "shrink" its relationship with Moneygram, which investors often pointed out as evidence that digital currencies are becoming the standard for payments and settlements.
Despite numerous negative headlines, everything buyers need seems to have been a little hope to plunge into again. And they got it exactly. Ripple attorneys gained a history of internal SEC discussions on cryptocurrency, and won two wins in court battles with the SEC.
Ripple executives themselves are also inspired by the news, as David Schwartz, chief technology officer, said the U.S. is not ready to regulate cryptocurrency.
Overall, it seems that there is only a week left for Ripple to release its title as one of the most controversial cryptocurrencies in the universe.