Coinbase selected'India' despite possible cryptocurrency crackdown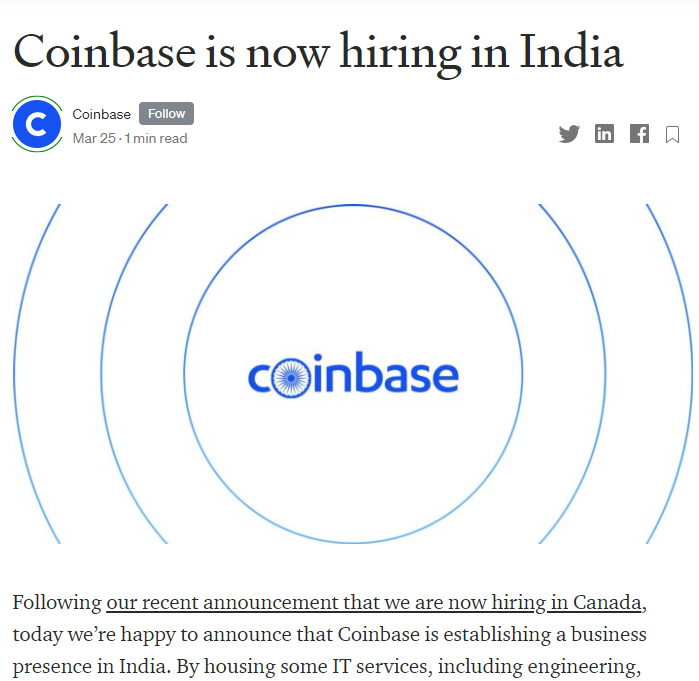 Coinbase plans to conduct some'IT services' such as engineering, software development, and customer support based on India.
According to Cointelegraph, Coinbase, the leading US cryptocurrency exchange, has announced that it is "building a business position in India" despite uncertain regulatory headwinds for cryptocurrencies in India.
Coinbase said in an article posted on its blog on the 25th (local time) that it plans to operate some IT services such as engineering, software development, and customer support in India.
"India has long been known as a hub of engineering and innovation, and we look forward to finding world-class talent that Coinbase Group can help our clients develop new ways to interact with the cryptocurrency economy." He explained.
Despite such announcements, it seems that there have not been any positions for Indian specific countries on Coinbase's employment portal so far, and even a search for the term'India' on the site does not appear.
The blog post added that Coinbase is actively hiring in Japan, Singapore, the Philippines, Ireland, Canada, and the UK to expand the geographical diversity of the'remote support' workforce.
Reuters quoted an anonymous Indian government source, claiming that Indian lawmakers are preparing a bill to outlaw'owning, issuing, mining, trading, and transferring virtual assets', reporting that uncertainty over the Indian cryptocurrency sector is looming. In the middle, the same news came.
Meanwhile, India's Finance Minister Nirmala Sitharaman said two weeks ago that the government will not stop all options for the cryptocurrency industry.
"We'll allow certain windows that people can use and give them the option to help them by experimenting with blockchain and Bitcoin or cryptocurrencies, etc."
However, Sitaraman repeatedly emphasized that the Reserve Bank of India (RBI) will soon announce the'CBDC', a digital currency issued by the central bank by the RBI, suggesting that India's future cryptocurrency regulation will be designed to prioritize the CBDC. did.
Coinbase is expected to complete its IPO through direct listing next month, and the value of Coinbase is expected to reach more than $100 billion in private events.
Coinbase shares have been trading at an average of $343.58 in private markets for 2021 so far, while CNBC has a personal stake held by Coinbase CEO Brain Armstrong worth $13.6 billion. It is estimated to be.