Ebang, a cryptocurrency mining company, officially launched its own cryptocurrency exchange through the first-only beta stage earlier this year.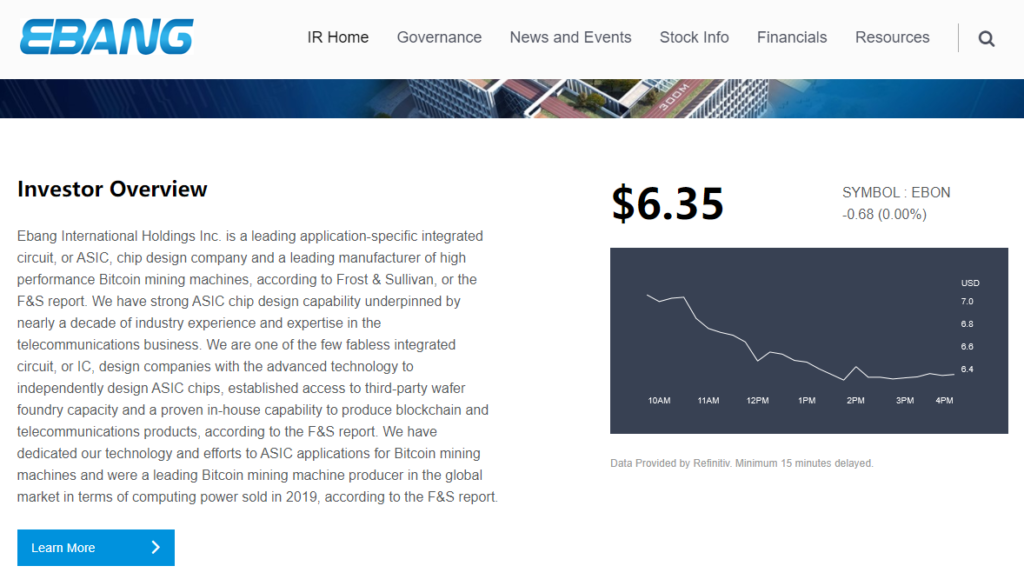 According to Cointelegraph, a cryptocurrency media outlet on the 5th (local time), listed company Lee Bang, which provides mining hardware for cryptocurrencies such as Bitcoin (BTC), officially declared the launch of its own cryptocurrency exchange.
According to the announcement on the day, eligible investors will be able to register and trade with Ebonex, a cryptocurrency exchange in Leebang.
CEO Dong Hoo, CEO of Lee Bang, said, "In recent years, we have invested a lot in product innovation and iteration, as well as in hiring R&D talent. When the cryptocurrency exchange business starts, not only will our cryptocurrency business expand the revenue stream , We will be able to optimize the development of our blockchain industry chain."
Ebonex supports major cryptocurrencies such as Bitcoin and Ethereum (ETH), as well as stablecoins such as Tether (USDT). Other supported coins include Litecoin (LTC), Cardano (ADA), Z Cash (ZEC), Dash, Tezos (XTZ), EOS, and Monero (XMR).
The exchange initially demonstrated in mid-March, in the beta stage exclusively for invitations.
In this announcement, it did not mention which jurisdictions can trade on Leebang's new cryptocurrency exchange.
Meanwhile, as previously reported by Cointelegraph, Lee Bang was listed on the NASDAQ Global Market under the ticker name'EBON' in June 2020. As a result, it became the second bitcoin mining company listed on the US stock exchange after Canaan, a Chinese cryptocurrency mining company.