Digital artist Mike Winkelman, who works under the name of'Beeple', won an auction for NFT works for over $69 million.
On the 11th, the auction house closed the sale of crypto artist Biffle's "Everydays: The First 5000 Days", and the price of the non-replaceable token (NFT) was $60.25 million as of 10:00 am on the day. The buyer's premium climbed to a final price of $69.36,250, a record high for NTF auctions.
NFT (Non fungible Token) is an ERC-721 method, one of the blockchains commonly used on the Ethereum network. This token proves the concept of ownership through uniqueness linked to collectibles such as art. Ethereum (ETH) was supported as a payment option for the first time at the 255-year-old Christie's Auction auction house. At the time of media coverage, it was not known whether the buyer used cryptocurrency instead of fiat currency to purchase Biffle's work.
Biffle's previous auction of works took place in February at the NFT marketplace Nifty Gateway. The work was a video clip of former U.S. President Donald Trump lying face down on the grass, painted by digital painting, which was settled in ETH for $6.6 million.
Biffle is known to have created more than 5,000 digital works for this work from May 2007 to the latest.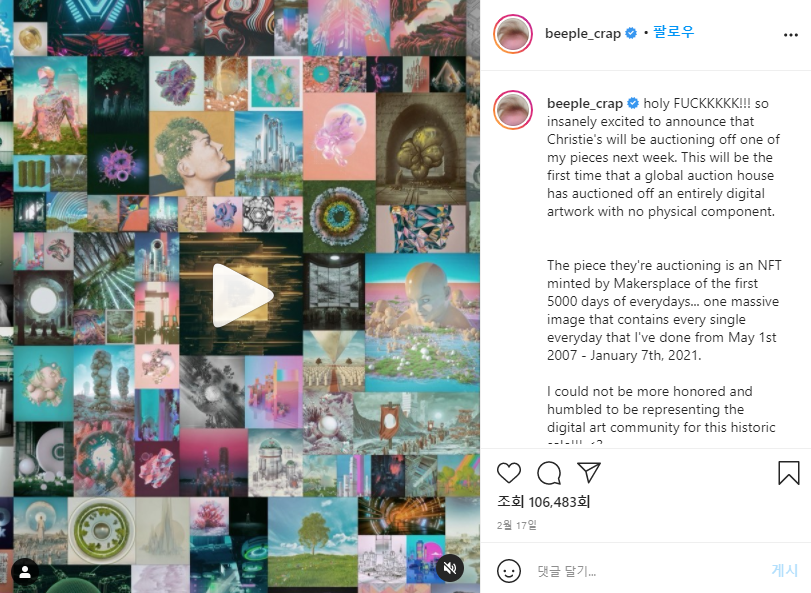 In recent years, interest in NFT auctions has been increasing rapidly, and Twitter CEO Jack Doshi decided to release the first post (Tweet) on his Twitter account at the NFT auction and donate the proceeds to a charity on the 21st.